I do checker duck calls and knives. I have a few patterns for duck calls, and will take any suggestions you may have. If you would like to see the few duck call patterns I have
click here for an information package
and please remind me that you would like to see duck call patterns in your email.
Generally I create a pattern for these items based on the space I have to work with and the amount you would like to spend.
Pricing starts at $40 for duck calls
$100 and up for knives.
Please check out photos of duck calls and knives I have done...just click on the "
photo gallery
" link to the left. There is a seperate section just for these items.
In this case the knife will be on display. So, I did a different pattern on each side to give him two options to display.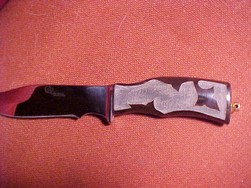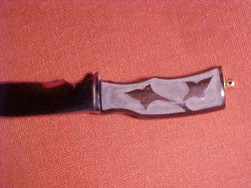 Here is a Duck Call example as well...
This is a wrap around point pattern.